Youth Endowment Fund, #iwill Fund and Co-op come together to launch the Peer Action Collective (PAC): giving 10–25-year-olds a voice and the chance to make their communities safer, fairer places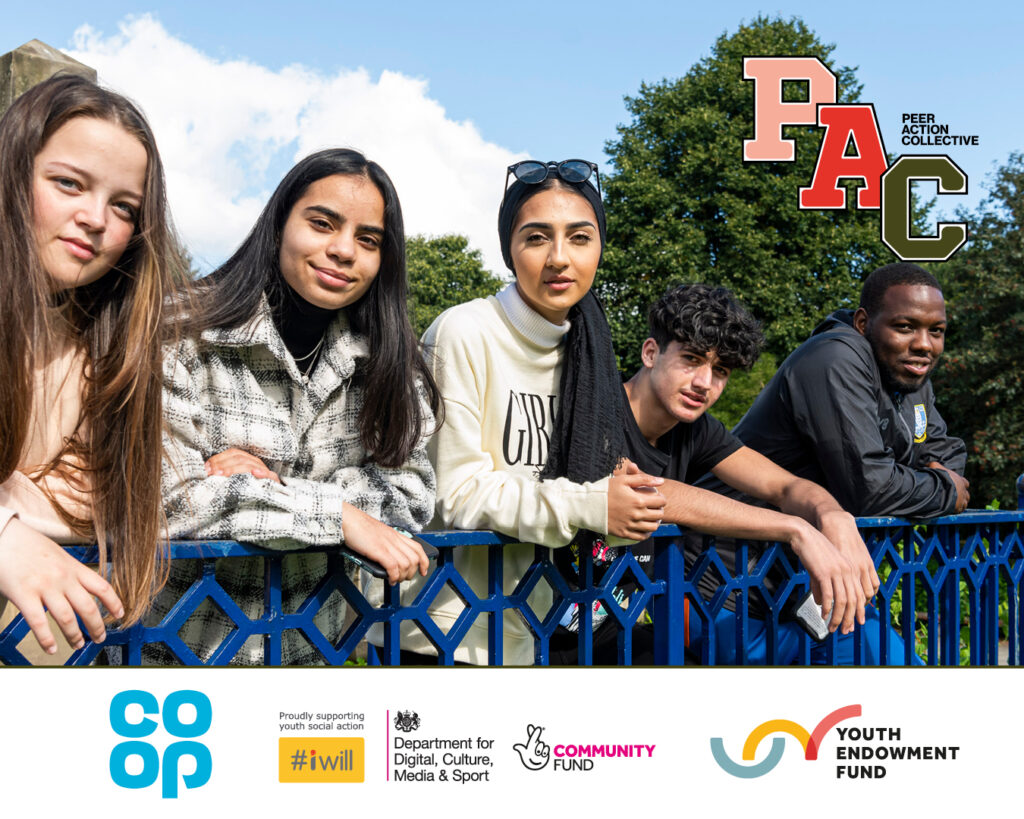 PAC is a ground-breaking network of young people, led by 120 peer researchers and 1,500 Changemakers, who'll reach over 5,000 other young people through their work
The programme will be youth led from the start, with all activities designed and implemented by 10–25-year-olds
Young people will get the chance to use their voices to reduce violence in their communities and make them fairer places to live and work.
Today sees the launch of a £5.2 million ground-breaking new youth-led network called the Peer Action Collective (PAC). The project will reach nearly 6,500 young people (aged from 10-25) who will take part in action to end violence in their communities. That might involve designing and carrying out research as a peer researcher, leading campaigns in their communities as a changemaker, or sharing their views on violence, so that they're shaping the solutions they want to see in their communities.
The youth-led programme is funded by the Youth Endowment Fund, the #iwill Fund (a joint investment between The National Lottery Community Fund and Department for Digital, Culture, Media and Sport) and Co-op.
The PAC will see 120 peer researchers (aged 16-25) design their own research questions and work with around 5,000 other young people (aged 10–20) to find out about young people's experiences of violence and their views on how they can help make their communities better places to live and work. All of their findings will be recorded on an app specifically developed for this project.
The findings will be used by a group of changemakers, made up of 1,500 10-20-years-olds, who will take what the researchers learn and turn it into action. From campaigning to improve local mental health services, setting up a youth centre or supporting young people into employment – the PAC will create opportunities for young people to make their community a safer, fairer place.
Shamza (17), a young member of the PAC from Bradford said: "Having witnessed youth crime first-hand and seen the effects of the pandemic on my friends, I'm so excited to be part of this project, which will support over 1,500 young people and help me help my generation to heal and thrive.
"Being a peer researcher means I can find out more about young people's experiences in my area and then take action to improve their lives. I hope to join the police force, and being a PAC peer researcher appeals to me as a way of learning more about the causes of crime as well as how to prevent it and change teens' minds. Obviously, if we can't change our generation now, these problems are going to be our future."
Peter Babudu, Director of Impact at the Youth Endowment Fund said: "The Youth Endowment Fund is here to find out what works to keep children safe from violence. We know that, without the voices of young people, we won't be able to do that."
"That's why the work we're doing with the PAC is so important. By learning more about young people's experiences and what they want to see change, we can make sure our work amplifies their voices and makes a positive change."
Rebecca Birkbeck, Director of Community and Shared Value at the Co-op said: "Our work in our local communities has shown us the positive, long term impact young people can have when they are given opportunities to take action on the issues they care about.
"We simply cannot have a situation where they feel they cannot change their path or improve their life chances.
"At the Co-op we have made it our priority to listen to what young people need to help them take charge of their own lives, no matter where they live or their background, the creation of the Peer Action Collective is another example of ensuring young people's voices and lived experiences are heard to help create safer communities and the world a fairer place."
David Knott, Interim Chief Executive at The National Lottery Community Fund, said: "By placing young people at the forefront of this new initiative we are providing a platform for them to share their experiences and create solutions that will inspire lasting change in their communities.
"The work of the #iwill Fund has had an incredible impact on young people, supporting them and their communities to prosper and thrive. The National Lottery Community Fund is committed to youth voice and the Peer Action Collective will enable us to build on our ongoing work with young people to further understand and inform how to best support them now and in the future."
PAC was officially launched earlier this week at an event hosted by community partners at Bradford City FC. The event saw some of the first young people who'll be part of the PAC come together to share their experiences and plan for how they want to make change.
To find out more about the project, visit the Youth Endowment Fund's website.
To find out more about Co-op's work with young people, please visit coop.co.uk/gamechangers